ADiveSheets v 1.1.6
The App ADiveSheets, is designed to run on an Android smart phone or tablet.
It helps a diver to create and submit dive sheets over the Internet to be imported into DiveRecorder.
The app should scale to fit a range of devices.
System Requirements
ADiveSheets will only run on Android devices using an ARMv7 processor supporting NEON. Fortunately this covers over 90% of the mobiles and tablets sold since 2012.
It should run on Android versions from 4.4 to 9.
If you need a version supporting Android 4.0 to 4.3, you can find it on the DiveRecorder website but in order to install it you will have to configure your device to 'install unknown apps'.
Installing
The current ADiveSheets.apk file can be downloaded and installed from Google Play.
Normally an upgrade should be made without uninstalling the previous version so that your data will be retained.
However, if you have a previous version and the upgrade fails you should uninstall the previous version completely, then install the latest version. In this case your previous data will be lost and you should re-enter it after the upgrade.
Language
You may choose from several languages. Tap the displayed language caption below the home page buttons to display a scrollable list of languages. Select your language choice. Not all the translations are complete. If you wish to complete, correct or even add a language, send an email to diverecorder@gmail.com
Screen Shots
The screen shots in the following chapters were taken from a 4.9" device running Android v 5.1 and may look a little different on your device. You may choose between a light or a dark style as shown below. The remaining images in this Help file are using the light style.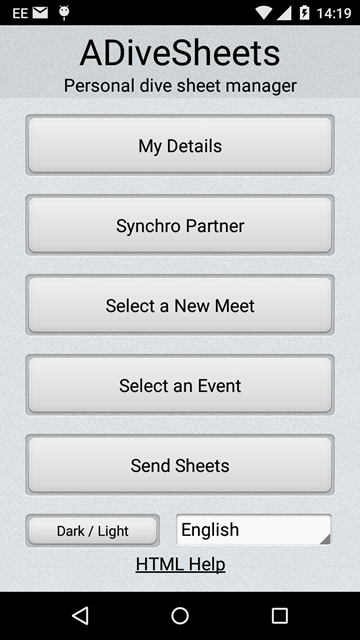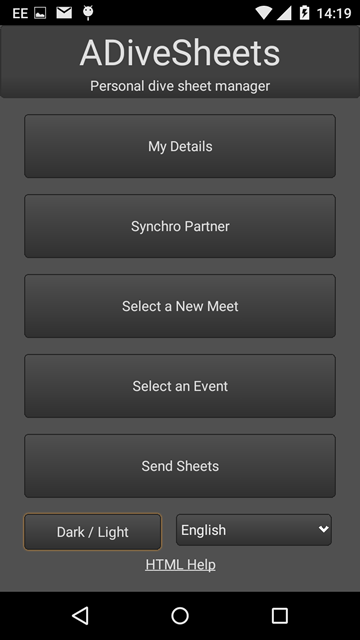 © 2015..2018 Malcolm Taylor